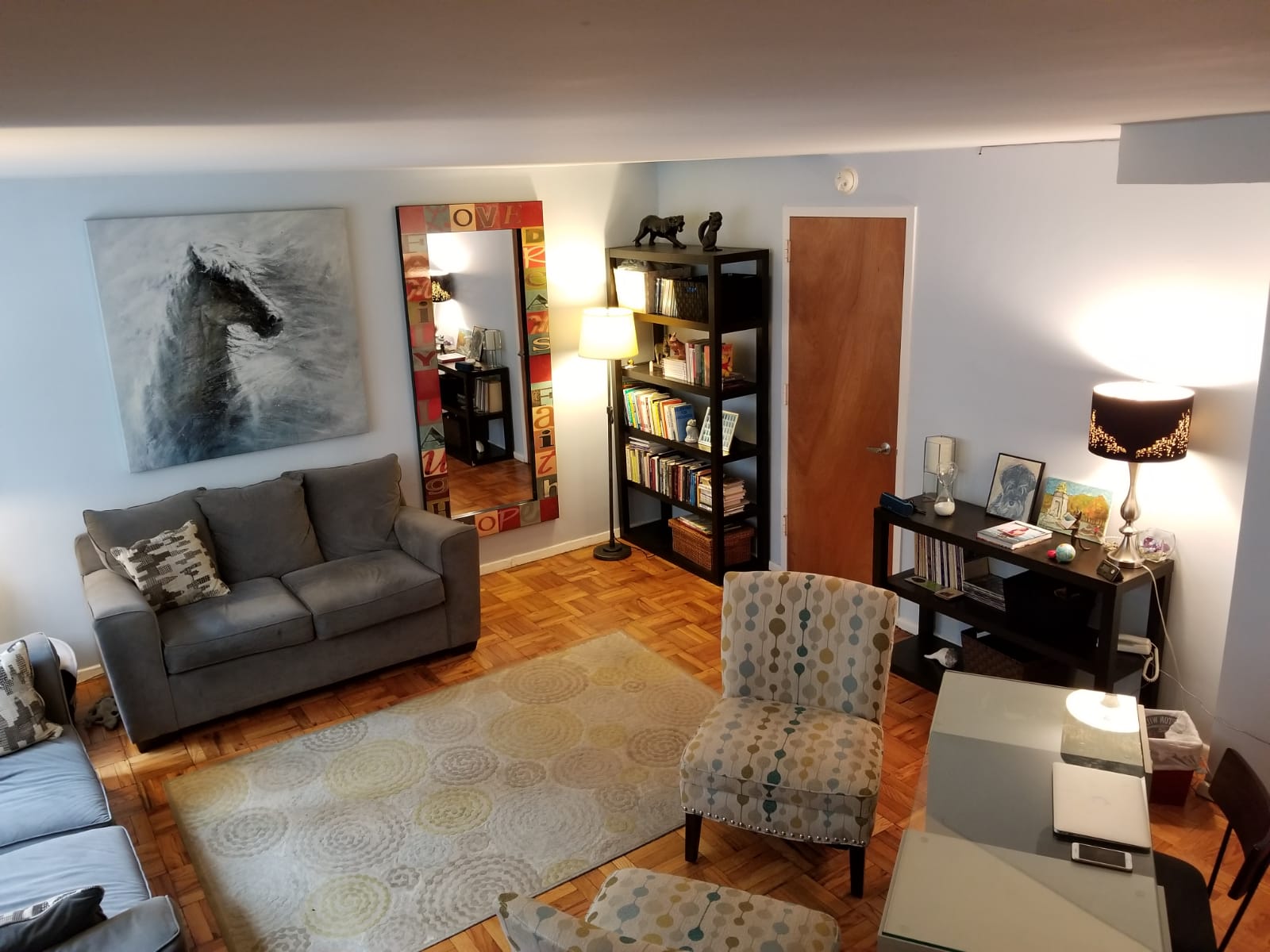 "Knowing yourself is the beginning of all wisdom."
~ Aristotle
Philosopher, Aristotle, expresses in his quote much of how I think and work both personally and therapeutically.
I believe that we begin our lives in relationship with others—whether it is your natal parents, grandparents, adoptive parents, a group home—as humans we don't live in isolation. Therefore, I work from the perspective that relationships are the origin of our greatest growth, yet can also be the source of our greatest challenges.
My goal in our work together is to help you as an Individual, Couple, or Family to better understand these multifaceted relationships. Often these complicated relationships come intertwined with other issues which we can also examine together. As your therapist, I provide empathy, compassion and guidance to help you and/or your family work through your challenges.
I work with individuals suffering from depression and low self esteem, anxiety and anxiety disorders (fears, phobias, panic attacks, and obsessions), general life stress, the challenge of entering or exiting a relationship (singles and couples), divorce, parenting, career and money dilemmas, sexual concerns and sexual identity issues, addictions, anger management, family problems, step and blended families, body image, sexual abuse, trauma and Post Traumatic Stress Disorder, bereavement, and more.
Laura's Practice & Counseling Philosophy
Starting the process of any modality of counseling (individual, couple, family, group) can be empowering, exciting and simultaneously challenging and/or anxiety provoking.. I am aware and accepting of the wide range of thoughts and feelings that may be brought to our sessions. I support the client in setting the pace of our collaborative work.
My approach is relational and systems which are jargoning words to mean that I believe we are heavily influenced by the people and institutions that have made up our history and current life situation. What I mean more specifically is the impact of our family—parents, siblings, relationships, extended family (grandparents, aunt's, uncles, and cousins), and our young educational experience. Our family is a system that has influenced us. Our educational institutions are systems that influence us—not just educationally but in our social interactions with both peers and teachers. Our journey into adolescence and young adulthood often bring to us the system/influence of becoming an employee and the navigation of increased responsibility and life transitions. Health concerns—both physical and emotional carry the healthcare and insurance system into our lives. Everyone lives with systems and relationships that greatly impact both positively and negatively our behaviors as demonstrated in our reactions, our feelings, our thoughts and our actions.
Working as a team, I seek to assist you to gain biographical insight and confront obstacles to change, to increase relationship skills, to increase your confidence in decision making and the maintenance of lasting solutions. My work is characterized by intuition, compassion, optimism and collaboration. I am prone to be straightforward without being harsh. I encourage bringing into the room all of your thoughts, feelings, perceptions and experiences—both past and present. I am approachable and available to explore what your experience of both the positive feelings and the negative feelings about the therapeutic relationship. For me, there are no "bad feelings"…but we often have negative thoughts about what we perceive to be "bad feelings". I welcome you to bring whatever you are prepared to emotionally and verbally bring to my office.
Laura's Education & Training
I obtained my Master's in Social Work from Columbia University that was an academic opening to further explore area's of special focus. So I sought out to increase my educational base by participating in many years of advanced post-graduate training in Family and Couple's Therapy from The Minuchin Center for the Family as well as advanced training in Group Therapy from The Center for Group Studies.
In addition, I am co-author of the book "Making Contact: The Therapist's Guide to Conducting a Successful First Interview."
Another significant area of my work includes the many years of working in the field of substance abuse and the therapeutic services needed to support the family members of alcohol and substance abusers. Having worked at The Caron Foundation (caron.org) for several years, I am drawn to work with those who are confused or suffering with a substance abuse concern. I equally feel my training extends to working with the families, children and adult children of Alcoholics and Substance Abusers—whether the drug and/or alcohol is still being used by the family member, much help can be offered to the family.
I also received training at the Jewish Board to work with individuals traumatized by the aftermath of 9/11, the loss, anger, disorientation and fear.
Finally, another passion I have is working with equine facilitated psychotherapy. While I am not currently involved in equine therapy I continually am interested to have an opportunity to serve in the positive therapeutic outcomes that can be a significant benefit of equine therapy.
Karley's Practice & Counseling Philosophy
In my work with clients, I prioritize the importance of the therapeutic relationship by seeking to create an environment of safety. For many individuals who are coming to therapy for the first time—they yearn to be heard and understood. No one can experience the empathy of another without feeling safe.
During our work together, we explore your past, present and hopes for the future. I utilize my observation(s) and intuition, coupled with infinite curiosity—prioritizing safety to be heard and focusing on your goals in therapy.
Through the progression of weekly appointments, often you may attain personal awareness of how your experiences, thoughts, feelings, and desires of your present life coupled with unconscious memories/experiences can influence the entirety of your life.
Therapy is not about receiving my understanding--it is through your own increased connection of patterns. With our work together—you may reward yourself with the ultimate gift of being the catalyst for your own change.
While seeking collaborative understanding, I work from a strength based psychodynamic perspective by utilizing various modalities including relational and systems theory as well as applying mindfulness and cognitive behavioral techniques.
In less clinical terms, I believe we are products of all interpersonal relationships, systems, institutions and cultures that make up our lives. Once these areas are identified, we determine how they are both strengths and challenges to you. We honor and build on your strengths and apply them to your tools of support, and work toward lessening impediments and/or eliminating destructive thoughts, feelings and patterns of behavior.
Karley's Education & Training
With six years as a facilitator for the Family Services Addiction Recovery Program, and as a counselor advising both parents and teens at Brooklyn Preparatory High School, I felt compelled to pursue and obtain my masters in clinical social work at Columbia University to greater develop my passion for counseling.
Some of my vast experiences include, and are not limited to, the following:
—Working alongside students at the Guild School for the intellectual and emotionally disabled by utilizing cognitive behavioral therapy and mindfulness techniques
—Creating workshops for both teachers and students to transfer healthy methods into their classrooms.
—Consulting at the Realization Center with individuals struggling with substance abuse and running weekly groups where members were both diverse culturally and socio-economically.

Currently, as a therapist at Laura Young, LCSW Counseling Services PC, I focus on psychodynamic psychotherapy in conjunction with cognitive behavioral techniques with both individual and group work. I enjoy rigorous educational and professional opportunities and professional opportunities and strive to be a 'life-long learner'.
It is my honor to be a collaborator, a container of endless curiosity as well as a witness in your journey. Together we can, and will, aim to increase connection with yourself, your relationship(s) -- personal or professional-- and progress toward accomplishing the goals you are seeking.
- Karley Foreman, LMSW
Copine is a 15 pound Miniature Schnauzer (a breed that does not shed/ hypo allergenic) and the newest member of Laura Young Counseling Services. She recently passed her 'Good Canine Citizen" course which is certified by the AKC (the American Kennel Club). Copine enjoys meeting new people and has had experience in individual, group, and couples therapy settings. She has been known to entertain clients in sessions. She also has her own room for folks who would prefer not to have her in the session.
Recent Article Contributions